Highlights from Community Development Week 2015 
Theme: Signature events highlight the important state investments and
leverage in community development 
Community Development Week Kick Off event in Baltimore
Maryland Department of Housing and Community Development Secretary Holt joined CDN and Central Baltimore Partnership for our kick off at the Parkway Theatre in Baltimore. CDN highlighted the use of state Community Legacy funds in the transformation of Central Baltimore.
Mixed Income Housing in St. Mary's County 
Spring Valley Apartments provides market rate apartments and housing for low income families. It was funded using a variety of sources, including Rental Housing Works.  A resident of the community joined us that day to let us know how important this community means to her.
 Community development investments in Cumberland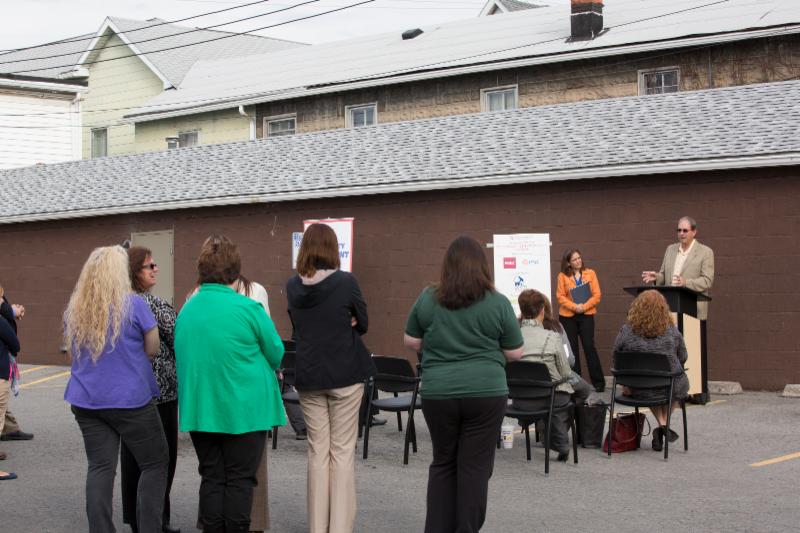 Senator George Edwards (speaking) and Delegate Mike McKay joined us in Cumberland to highlight the state investments in a local job center, bowling alley and Head Start, projects initiated by the Allegany Human Resource Development Commission.
Neighborhood BusinessWorks for Cambridge Main Street
Senator Adelaide Eckhardt and Delegate Sheree Sample-Hughes toured Cambridge Main Street to celebrate the important investments Neighborhood BusinessWorks has made in the area.  What was lots of vacant store fronts are now thriving businesses.
Housing Counseling Works
Housing Opportunities & Planning Enterprises (H.O.P.E.) hosted CDN and partners to showcase a homebuyer workshop. The Prince Georges Coalition for Homeownership Preservation has done tremendous work to help families land on their feet or keep their homes in the midst of the foreclosure crisis. One of the homebuyers talked about her success and encouraged that everyone go to housing counseling.
Marketing Dundalk
Participants from around the state joined CDN, the Dundalk Renaissance Corporation and Delegate Steve Lafferty (left) to celebrate the Baltimore Regional Neighborhood Initiative funds in Dundalk, and a workshop on marketing neighborhoods as communities of choice.
Here is some media coverage!
Allegany Radio
Dundalk Eagle
Special Thanks to this year's Community Development Week Sponsors!
Signature Sponsors:

Title Sponsor:
Community Sponsors: